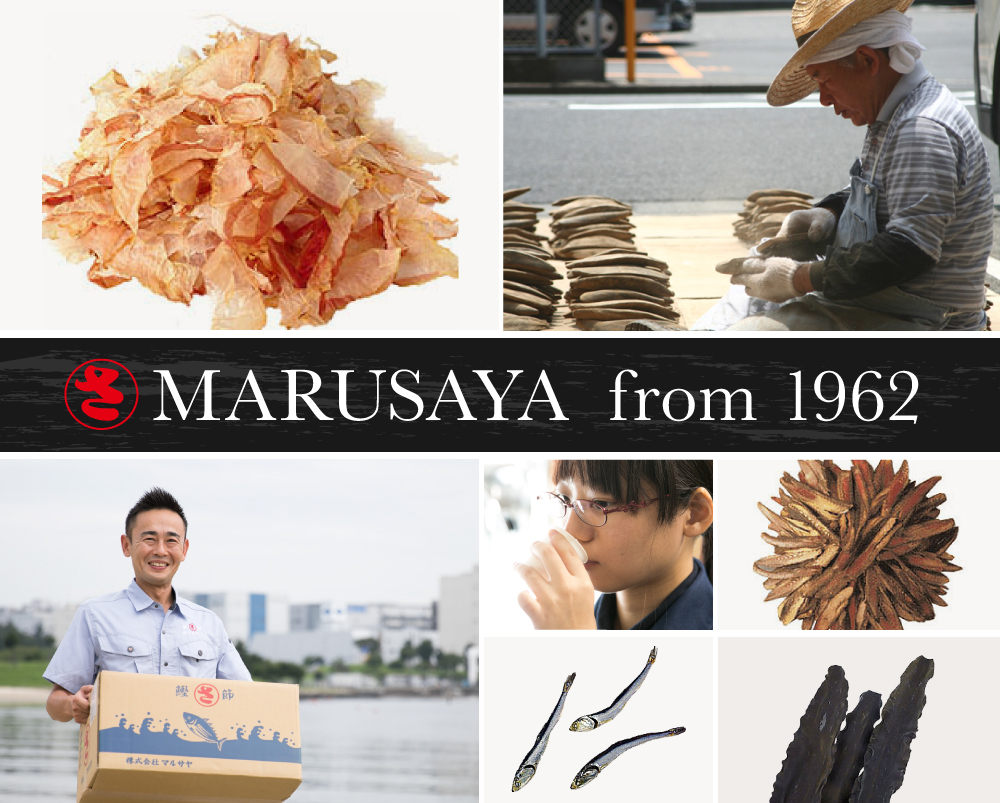 Same-ol' Japanese Taste and Flavor,
Truly Authentic, Persistently Genuine
Since 1962, we have incessantly established the standards by introducing organic and authentic soup stock ingredients into leading Japanese food culture trend setter restaurants in Soba, Udon and Ramen noodle throughout Japan and in Asia with a strong focus on dry fish meat, especially smoked and fermented dry bonito "Katsuobushi". As the 20yr-old pioneer of the rarest two years vintage dry bonito, we will continue to be client first and the one and only Japanese soup stock ingredient connoisseur with the widest line-up variety, best-of-its-kind quality and largest stock quantity of dry seafood based upon the close and direct relationship with Japanese fisherman's wharfs and the deep expertise in blending for your everlasting and constantly evolving taste and flavor.
PROFILE
Company Name
MARUSAYA CO., LTD.
Established
April 1, 1962
Capital
JPY 10 million
TEL
+81-3-3742-2266
FAX
+81-3-3742-0383
CEO
Tomohide Futagami
Business
Sales of traditional Japanese dry seafood
Locations Office
@ Tokyo / Hokkaido / Tohoku / Kita-Kanto / Chubu / Kansai
Warehouse@ Tokyo / Hokkaido / Shizuoka / Kagoshima
Partners
SINGAPORE@ MARUSAYA SINGAPORE PTE LTD
KOREA@ MARUSAYA KOREA CO., LTD.